Missing someone you love can cause extreme melancholy. Sometimes, reading quotations will give us inspiration and help us recover from our sadness. A great word to describe this is Saudade.  Saudade is a word that came from Portuguese, Galician and Spanish. It bet describes a deep emotional state of nostalgia an melancholy. It is the extreme longing for an absent something or someone you love. Additionally, saudade usually it often carries a repressed knowledge and worries that someone or something may never return. Here we have prepared inspiring quotes to help you ease the pain.
love quotes for him from heart
Quotes about missing someone
1.
Missing someone and not being able to see them is the worst feeling ever.
2.
When I close my eyes I see you; When I open my eyes I miss you.
3. Someone asked me if I missed you. I didn't answer. I just closed my eyes and walked away and whispered 'so much'.
4.
I miss you. Not in some cheesy "Let's hold hands and be together forever kind of way". I just miss you, plain and simple. I miss your presence in my life. I miss you always being there for me. I miss you bestfriend.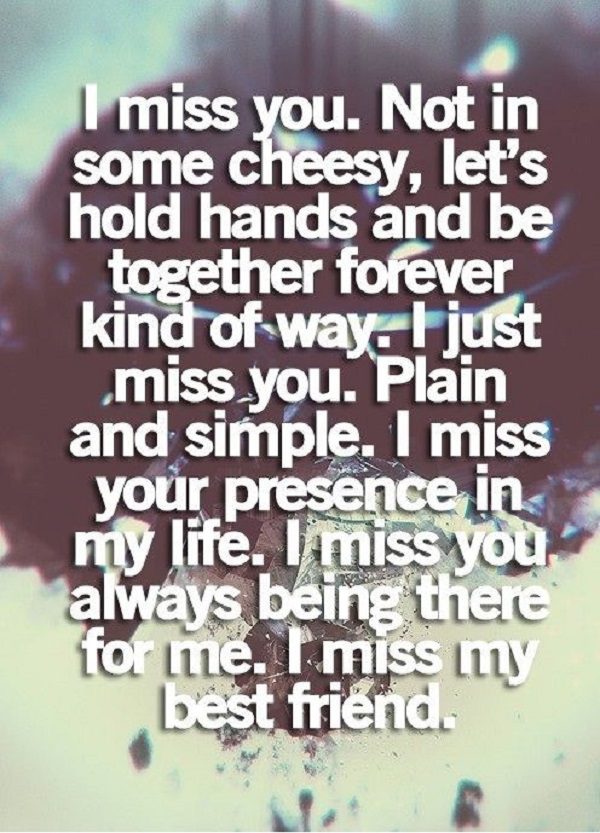 5. If you can't get someone out of your head, maybe they are supposed to be there.
6.
In French, you don't really say "I miss you", you say "Tu me manques" which means "You are missing from me".
7.
I keep myself busy with the things I do but everytime I pause, I still think of you.
8. Have you ever missed someone so much that even the thought of them made you burst into tears?
9. I miss you. A little too much, a little too often and a little more every day.
10. Sometimes, it's not just about missing someone, it's wondering if they're missing you too.
11. Missing someone is your heart's way of reminding you that you love them.
12. If you can't get someone off of your mind; It's because your mind always know what your heart is thinking.
13. Never give up on something you can't go a day without thinking about.
Quotes about missing someone who died
14. It's hard to forget someone who gave you so much to remember.
15. I miss our conversations; I miss how we used to talk every minute of everyday and how I was about to everything that was on my mind.
16. Death leaves a heartache no one can heal; Love leaves a memory no one can steal.
17. And God shall wipe away all the tears from their eyes; and there shall be no more death, neither sorrow nor crying, neither shall there be any more pain: for the former things have passed away.
18.After all this time, I still miss you everyday.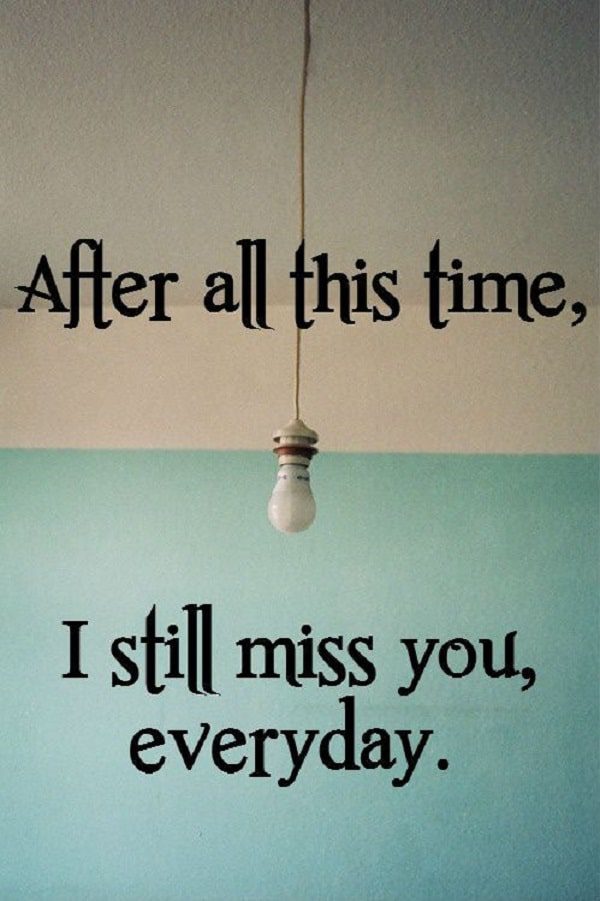 19. Those we love don't go away, they walk beside us everyday…Unseen, unheard but always near, still loved, still missed and very dear.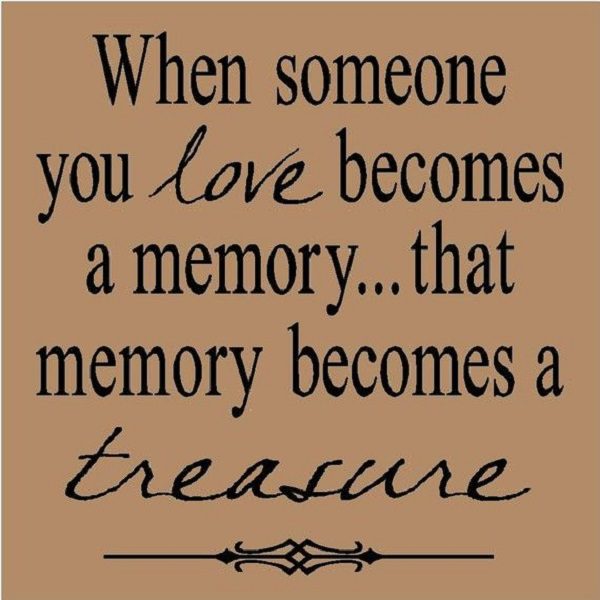 21. A million times I've needed you; A million times I've cried. If love alone could have saved you, you never would have died. In life I loved you dearly, in death I love you still. In my heart you hold a place no one else can ever fill. I broke my heart to lose you but you didn't go alone. Part of me went with you the day God took you home.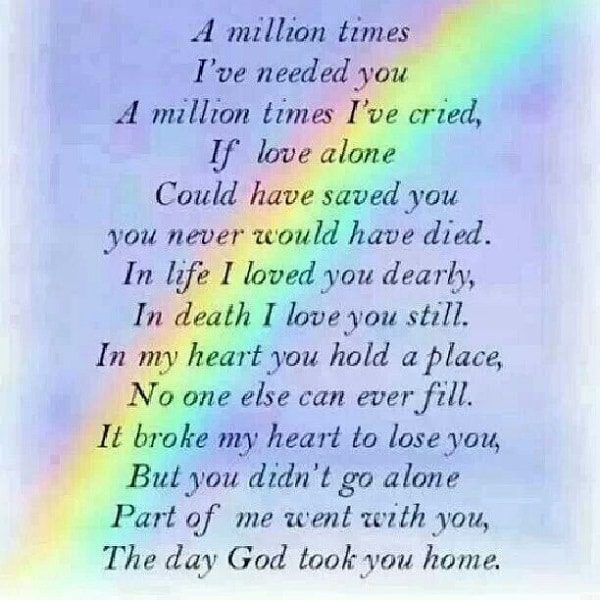 22. You can love someone so much, but you can never love people as much as you can miss them.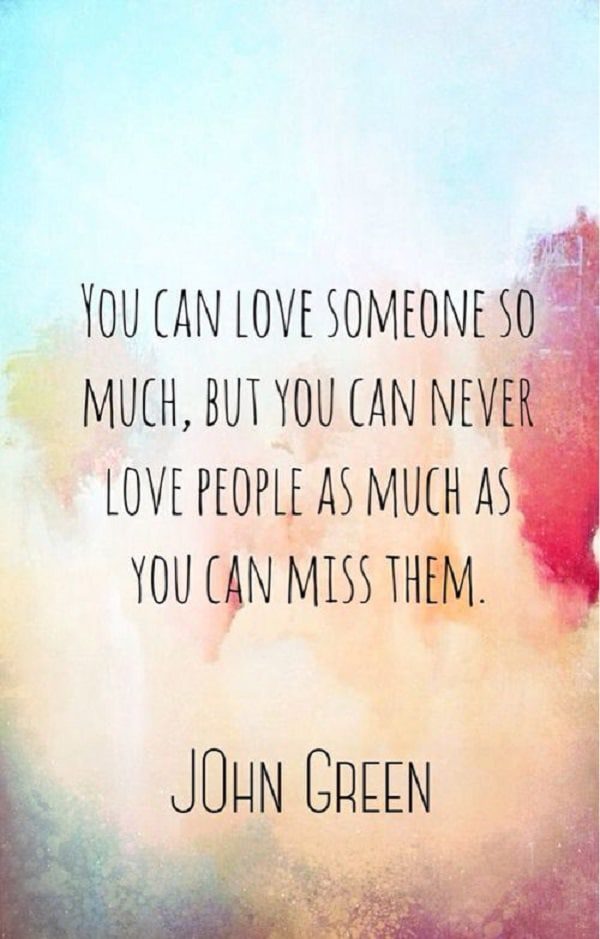 23. You don't get over it, you get through it. It doesn't get better, it gets different. Everyday just like me, grief puts on a new face.
Quotes about missing someone who is far away
24. Missing someone gets easier everyday because even though you are one day further from the last time you saw them, you are one day closer to the next time you will.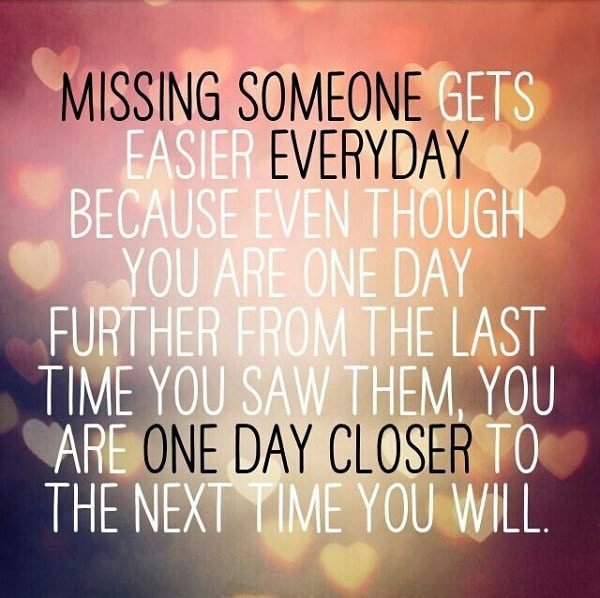 25. When you truly love someone, no distance or amount of time can tear you apart. Sure, it would be easier to move on, but being with anyone else would just be settling. The days are lonely and the nights are worse but when you have a love that strong… never lit it go. It may be hard but God knows it will be worth it.
26. I think we dream so we don't have to be apart for so long. If we're in each other's dreams, we can be together all the time.
27. I wish that you were here or I were there or we were together anywhere.

28. I need you because you make me laugh more than anyone else, and I'm the best me when I'm with you. And because when you're gone, nothing feels right until you return.
29. A thousand miles can't keep me away from you.
30. Distance shouldn't matter because at the end of the day we're all under the same sky.
31. You are near, Even if I don't see you. You are with me, even if you are far away. You are in my heart, in my thoughts, in my life always.
32. The desire to cry, or an overwhelming feeling of sadness for no apparent reason, is linked to emotional stress caused by missing someone.
33 The truth is, I miss you. All the time, every second, every minute, every hour, every day.
love quotes for him from heart